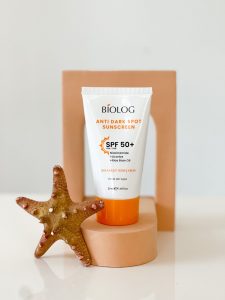 With the arrival of summer, Biolog is at your side with a miraculous product to minimize the harmful effects of the sun and reduce the damage to your skin. Biolog Anti-Blemish Sunscreen is a unique cream that has two effects in one product. Protective against both the harmful rays of the sun and staining.
Biolog Anti-Blemish Sunscreen SPF 50+, a new and innovative product that you will not miss in your bag, is quickly absorbed into the skin with its actives and rich content, moisturizes the skin with its special formula that does not leave a greasy and sticky feeling, and provides a velvety appearance…
Suitable for all skin types throughout the four seasons.
Biolog is perfect for different skin needs with its natural composition ingredients.