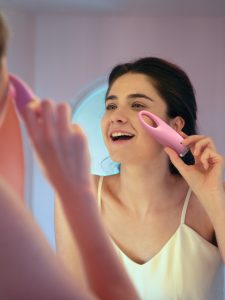 The innovative IRIS™ product, inspired by the Asian-specific eye massage performed by tapping with the fingertips, offers younger and brighter looks with its innovative technology that targets wrinkles, puffiness, dark circles and under-eye bags, which are the first signs of aging. With its developed technology, IRIS™2 provides a much faster relief for tired eyes with its more specific and effective massage. Certified as an effective and safe eye care device, IRIS™2 combines the iconic Asian eye massager with the revolutionary T-Sonic™ massager to refresh tired eyes and relieve puffiness. IRIS™2 helps the eyes regain moisture, relieving headaches caused by eye strain. Fast and effective, this ultra-hygienic device is clinically proven to help reduce under-eye bags and dark circles while illuminating, smoothing and tightening the under-eye area.
With its unique T-Sonic™ technology, IRIS™2 enhanced technology designed to gently massage and smooth the eye area, it triples the battery life of its new device and enables the device to be used longer. Thanks to the indicator light on its base, it warns when the battery is low, and your care continues uninterruptedly on the way to effective looks. With the power of technology, IRIS ™ 2 silent treatment, developed to continue your effective and relaxing eye care routine wherever you want, and to get faster results, helps you to continue your care easily wherever you want.
Soft and smooth silicone device for delicately massaging the sensitive eye area, in addition to its curved design developed to fit the eye contour, offers non-slip grip feature in its new device for extra comfortable use and a smoother eye rejuvenation experience, so that even fingers slippery with serum or cream can hold the device firmly. Body-safe hypoallergenic, BPA and phthalate-free IRIS™2 treats your skin with respect with its non-porous, antibacterial soft silicone structure. With its light and easy-to-carry design, IRIS™2, which is a star product that you will not want to leave with you, allows you to apply your eye care routine in just 1 minute, wherever you want.
Every morning and evening, IRIS™2 is placed under and over the eye and applied to each eye for 30 seconds for refreshed and youthful-looking eyes in just 1 minute. In addition, when used with your IRIS™2 cream or serum, it allows products to penetrate your skin better, increasing its effectiveness significantly. IRIS™2 can only be applied to the under eye area and brow bone, it should not be applied to the eyelid or eyeball. Always developing user-oriented solutions to make daily life easier, FOREO promises young, bright, fresh and effective looks with IRIS™2, a personal care product that you can use anytime, anywhere.