Protects Skin & Oceans
NUXE Sun products have been formulated to protect the skin and not to disturb the natural balance of the oceans. NUXE, which has always been a part of the pursuit of 'clean beauty', generates a privileged blend combined with esters, which is the subject of a brand new NUXE Sun patent; makes the sun protection system the most ideal possible. The carefully selected products consisting of only 3 sunscreens in the new formulas continue to offer the same effective protection against UVA and UVB rays. NUXE Sun formulas have been tested in marine ecosystems with care to protect marine habitats. The fact that the formulas are water resistant reduces the amount of sunscreen that dissolves while swimming. After Sun Hair and Body Shampoo is easily biodegradable.
For pure pleasure
Satin-textured oil, a runny liquid and a refreshing lotion; The textures of NUXE Sun care products are irresistible with their surprising sensory finishes and offer that longed-for holiday scent that feels good in all conditions. A few minutes after application, the sparkling harmony of citrus and orange awakens the senses. The blowing coconut-Tahiti gardenia breeze transports your mind to tropical beaches. At the heart of the essence, the harmony of vanilla and musk scent penetrates the skin.
The best of NUXE SUN "Summer Pleasures" selection
Our selection accompanies you wherever the sun takes you. These care products protect the skin from sun rays and help prevent premature aging of the skin, thanks to the natural anti-oxidant extracts of rice, rosemary and vitamin E. 100% Made in France, the Oleo-active Water Hyacinth®️ and Kau Pe Flowers from the Marquesas Islands contribute to its wonderful moisturizing and soothing properties.
Moisturizing Protective Bi-Phase Hair Care Oil – New
With its water-resistant dual-phase structure, it protects the hair against UVA and UVB rays. Its formula with Coconut and Panthenol repairs and moisturizes the hair. It protects the hair structure and color from the effects of sun, sand and chlorine. With its quickly absorbed structure, it softens and moisturizes the hair without weighing it down.
Tanning Oil High Protection Spf 30 for Face & Body
Its texture enriched with vegetable oils applies smoothly, protects the skin and beautifies it with a satin finish.
Sunscreen Face and Body Milk
High Protection SPF 50 Face & Body
Its water and sweat resistant sprayed structure is absorbed by the skin without leaving a white trace. Ideal for sports fans.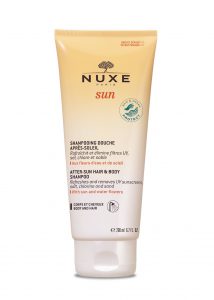 The best of NUXE SUN 'After-Sun' selection
After Sun Shampoo Hair and Body Shampoo
Creamy foam textured product with a pleasant smell; In the evening, UV filters allow you to be purified from salt, chlorine and sand.
After Sun Care Cream After Sun Lotion
Face & Body
Sorbet texture helps repair and soothe burned skin. Helps you gain a tan that lasts for 2 weeks*.
Body Spray
Its sunset-like bottle reflects the warm glow of summer. The enchanting harmony of Sweet orange / Coconut / the tiare flower takes you to distant shores.