M•A•C, which has influenced the world of fashion, art and popular culture since the day it was founded, and is the world's leading makeup authority in the art of makeup, rewrote the rules in mascara technology with its extraordinary design and innovative formula and launched the NEW M•A•C Stack Mascara on March 24. Thursday, Soho House introduced it with a special invitation in Istanbul.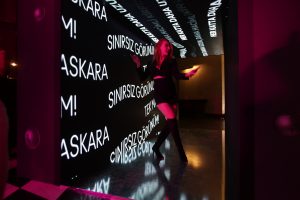 Special event, M•A•C, where the new M•A•C Stack Mascara was introduced, providing ultra volume and length with its weightless formula, separating the lashes one by one and giving the user an unlimited look with a single mascara and longer, more voluminous lashes in each coat. It started with the opening speech of Nazlı Altıpat, Brand General Manager, M•A•C Cosmetics Turkiye. The guests were introduced to the groundbreaking mascara with its technology and design, with the narration of M•A•C Global Senior Artist Hüseyin Kaygusuz.
Setting off with the message "One Mascara, Unlimited Looks", the brand held the event under the theme of "Infinity". Guests, including names such as Estée Lauder Companies Turkey General Manager İpek Ersavaş, Aslı Şen, Eliz Fındık, Itır Esen, Jessica May, Damla Altun, Damla Can, Narod Çetinkaya, Gamze Biran, Çisil Şıkı, Simay Yılmaz, Güneş Ekin Sarıtaş, Hivda Zizan Alp and Merve Sevin had a unique experience with the performance of DJ Canan Soylu accompanying the event, as well as spent pleasant hours in the wonderful atmosphere of the venue inspired by the silver-black innovative and futuristic design of the M•A•C Stack.