50 women entrepreneurs wanted
Unac Group, which is ranked 43rd in the list of "Turkey's 100 fastest growing companies" awarded by the T.R. Ministry of Commerce every year, provides special support to women entrepreneurs and starts its stores in Turkey under the brand of Cosmolive Kozmetik in the category of "Natural Personal Care Market".
The Cosmolive Kozmetik brand, which is exported to 45 countries with its range of natural personal care, cosmetics and hygiene products exceeding 200, will give the first 50 franchises to store in Turkey only to women entrepreneurs, and entrepreneurial women who meet the basic conditions will not pay the franchise fee.
100 stores will be opened in 2 years
Ufuk Ali Çoban, Chairman of the Board of Cosmolive Kozmetik brand, said, "Many worthy female entrepreneur candidates in our country have difficulties in getting franchises from the personal care markets that are currently serving, especially because they cannot meet the financial conditions. Negative developments in our economy also discourage entrepreneurial candidates. As a completely local brand, whose 25 managers are women, and that makes all its production in Izmir, we will enable our women entrepreneurs to overcome these obstacles. With the natural product range of our Cosmolive Kozmetik brand, which exceeds 200, we will support female entrepreneur candidates so that they can open stores in the right locations and at the right times without receiving a franchise fee. Thus, we will both conduce to new investments, encourage employment and increase production to the highest level. We will also be offering quality, organic personal care and cosmetic products, which are known to be lacking in our country, to wider masses at more reasonable prices."
Ufuk Ali Çoban, who stated that they aim to open 100 natural personal care markets in Turkey within 2 years and 100 in 3 years in the USA with the franchise, also recorded that he is proud of the fact that the factory of Cosmolive Kozmetik in İzmir produces 24 hours a day.
The industry that has earned the most in the pandemic
Preferred brand in 45 countries
Cosmolive Kozmetik played an important role in meeting the intense demand for personal care, cosmetics and hygiene products with the impact of risks during the pandemic period, and Turkey's leading valuable retail brands purchased Cosmolive Kozmetik products and offered them for sale with the labels of their own brands.
Taking giant steps towards becoming a global brand, Cosmolive Kozmetik has liaison offices in Florida and the Netherlands. By the end of 2023, the product range will reach 400 units.
Cosmolive Cosmetics is preferred in 45 countries from America to Europe, from the Middle East to Africa. The countries where the products are used the most are reflected in the statistics as America, Netherlands, Spain, Italy, Qatar, Tunisia and Kenya. On the other hand, dealership requests from many different countries continue to come.
More than 200 Natural Personal Care Products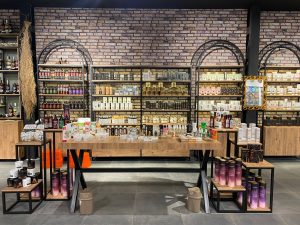 Cosmolive Cosmetics products are grouped under 5 categories: skin care, hair care, soap, cologne-air freshener and baby products. The main care products specially formulated with natural oils and extracts consist of skin care serum, peeling, tonic, face and hand cream, sunscreen cream, tanning cocoa butter, make-up removal wipes, shampoos with varieties such as collagen-argan-olive oil-keratin.
Cold pressed oils, natural plant powders and natural plant juices and cold process soaps stand out with their healing properties. It is offered to the user with a total of 24 varieties, mainly active carbon, argan, aloe vera, cocoa, coconut, donkey and goat milk, himalayan salt, juniper tar, lavender and laurel.
Body mists with notes ranging from vanilla to tropical fruits, colognes ranging from ocean breeze to tangerine essence, room fragrances ranging from amber to lavender are just some of the products of Cosmolive Kozmetik.