Tapping into the principles of Green Chemistry, the botanical technology in Aveda's 95% naturally derived Smooth Infusion collection includes a Plant Polymer Shield and Botanical Smoothing Oil Blend, giving hair instantly smooth, sleek results in just one use. This dual-action technology protects from humidity without silicones.
How it works…
First, a botanical complex created from castor bean plant extract instantly cloaks hair strands and repels water, giving silicone-free protection. Next, a smoothing botanical oil blend formulated with Kalahari Melon Seed Oil and Tamanu Oil smooths and conditions cuticles for softness and shine.
Camille Sasik, Ph.D., Aveda's Director of Hair Care Research and Development, said, "Leveraging our expertise in high-performance, naturally derived materials, we were able to identify the Plant Polymer Shield in the Smooth Infusion collection used to block humidity and give frizz protection. This is an exciting technological improvement that replaces silicones with plant-derived alternatives, without sacrificing performance – actually, it gives better, longer-lasting results than our prior silicone-based formula. That's the power of Green Chemistry!"
The Smooth Infusion™ Collection
Anti-Frizz Shampoo
Silicone-free, smoothing shampoo that gently cleanses, moisturises, and enhances shine while fighting frizz.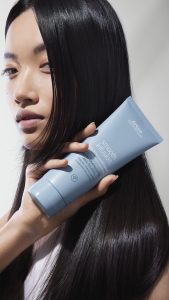 Anti-Frizz Conditioner
Silicone-free, smoothing conditioner moisturizes, detangles, and softens hair, improving manageability and reducing flyaways.
Perfect Blow Dry™
Advanced heat activated treatment makes frizz prone hair five times smoother instantly. It wraps each strand in an invisible shield that provides 72-hour anti-frizz protection, even in extreme humidity. Best for those with straight, wavy, and curly hair textures of all hair types.
Style-Prep Smoother
Lightweight leave-in treatment serum primer preps hair with pre-style protection for 72-hour frizz defence while providing protection from heat styling and the drying effects of the sun. Best for those with straight, wavy, and curly hair textures of all hair types.
Perfectly Sleek Heat Styling Cream
The rich conditioning butter crème deeply nourishes and protects naturally curly or coily hair textures during heat styling. Best for those with curly and coily hair textures of all hair types.
Environmental standards
Smooth Infusion™ Collection consists of 95% natural ingredients, does not contain silicone and sulfate cleaners. Like all Aveda products, it is vegan and not tested on animals. smooth Infusion ™ packaging contains a minimum of 59% post-consumer recycled plastic; smooth Infusion ™ collection formulas are produced in Aveda 's main facility using 100% renewable energy with solar and wind energy.*

* From plants, non-petroleum minerals or water. Smooth infusion is obtained naturally at an average of 95% according to ISO standards.
– The smooth Infusion™ collection features an aroma of rose, Australian sandalwood, certified organic palmarosa, certified organic bergamot and other pure flower and plant extracts.