Recycling Master
Deniz Sağdıç, who participated in the favorite L'Occitane campaign and transformed waste materials such as plastic, aluminum and fabric into extraordinary works of art, explains the reason for the meeting as "L'Occitane has never used plastic bags in its stores and it saves 200 tons of plastic every year with its ecological packaging"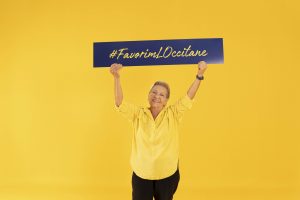 Pomegranate Mother of ecological agriculture and support to women
Another important name of the campaign is Nardane Kuşçu, who is engaged in ecological farming with 16 women in Narköy, the organic farming farm and life center he established in İzmit Kandıra. Also known as Nar Mother. "The one who has no dreams has no work!" Nar Anne, who established Turkey's first seed bank with her motto, becomes a bridge to everyone. She mentioned about the meeting with L'Occitane, "L'Occitane has supported 42,600 women socio-economically in Burkina Faso so far, the target is 60 thousand women!"
Introduced Turkish Weaving Art to the world
World-renowned master weaving artist Fırat Neziroğlu uses recycled fabrics in his handmade designs and breathes into the future with his art that reflects his endless energy. He is trying to revive the forgotten weaving art of Anatolia with the works he designed. Neziroğlu said, "L'Occitane values ​​their handicrafts by working with artisans in their store decorations and collections."
Preventable Blindness
Seçil Arıkan, (Altı Nokta Körler Vakfı) General Manager of Six Dots Foundation for the Blind, emphasized the Beauty Box project initiated by L'Occitane in 2018 and she said, "Our cooperation with the brand has been a light for 18 thousand people so far. Since 1997, 10 million people worldwide have received eye treatment thanks to the brand. The target is to reach 15 million people by 2025!"
She generated 5 forests with the income of his books
Authoress and Nature Friend Zeynep Bugay has been generating tiny forests and donating saplings with the income of her books for years. Zeynep Bugay, which has a total of 5 memory forests so far, almost becomes oxygen to all of us. Bugay underlines the message, "1000 plant species are under protection in the Mediterranean basin thanks to L'Occitane".
For nature, women, craft and sustainability
L'Occitane, which never uses plastic bags and does not have plastic packaging in its stores, supports refilling care products with environmentally friendly refills instead of oversized packages. The brand, which supplies raw materials in accordance with the principles of fair trade and sustainable development and does not apply any tests on animals, aims to ensure a better quality of life for its users with its studies on aromatherapy and phytotherapy by researching the effects of essential oils on mental and physical health. Within the scope of the brand's principle of respect for nature and people, there are true stories underlying all product collections.