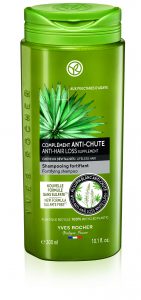 Anti-Chute, a highly effective specialist care range with natural ingredients against hair loss, stimulates hair follicles thanks to the White Bitter Bean it contains, slows down the functioning of the mechanisms that cause shedding, and supports the increase in the number of hair. Organic Agav, developed by Yves Rocher's Herbal Laboratories, helps the hair follicles to be fed better, while making a great contribution to healthy and strong hair.
Anti-Shedding Strengthening Shampoo, with its renewed Sulfate-free formula and more than 96% natural content, treats your skin with respect, gently cleanses your hair and reduces hair loss. However, its light, sulfate-free texture leaves a soothing feeling on your scalp. It is recommended to use the shampoo, which is applied by massaging slowly from the scalp to the ends, with Anti-Hair Loss Intensive Treatment Against Hair Loss to ensure higher effectiveness. While the Intensive Treatment Against Hair Loss provides ease of use with its liquid structure and easy absorption, it provides the formation of 6480 new hair strands in 1 month of use, helping your hair to become visibly thicker and revitalized.
Note:
While 72% of users stated that hair loss decreased and their hair started to grow and gain a healthy look within 1 month after regular use and 82% of them stated that their hair feels softer after washing their hair.
While all formulas produced in Yves Rocher Herbal Cosmetics Laboratories adopt the principle of respect for the skin and nature, they also contribute to protecting nature with their packaging made of 100% recycled plastic and sustainable forests.